Blog
Texas Children in Nature Champions - 2017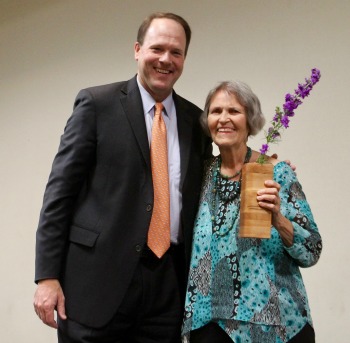 Texas Children in Nature (TCiN) is hosting the first Summit and Champions Awards Luncheon in San Antonio, TX on November 7 and 8, 2017. The Summit will bring together leaders from the conservation, education, health, built-environment and youth development communities for two days of learning about the latest research, sharing innovations and turning inspiration into action.
TCiN is proud to honor the 2017 Champions of Children in Nature. This year TCiN is recognizing one individual and three organizations for their outstanding work to improve the lives of children through a connection with nature. Each Champion has made considerable contributions towards achieving the TCiN strategic goals of enhancing education methods to include more time outdoors, improving the health and wellness of children and families, creating a since of place and community, and expanding access to nature in Texas. This years Champions are:
Peggy Carnahan – For her efforts in creating Project ACORN so kids in San Antonio could learn more about the nature they live and play with every day. She is a lifelong educator who believes all lessons can be taught outdoors. Peggy is the Director of the Center for Mathematics at Our Lady of the Lake University, San Antonio, TX.
City of San Antonio – For the myriad of opportunities they provide to children and families to improve their health while enjoying and learning about the City's natural resources. In addition to making parks more accessible to children with all abilities, they offer programs such as Starting Out Wild and the Mayor's Fitness Council which all contributed to the health and wellness of the families of San Antonio.
San Antonio Zoo - For their innovations in creating a since of place for children at the Kronkosky's Tiny Tot Nature Spot and Zoo Pre-School, while also teaching them about local nature and wildlife from around the world.
Texas Wildlife Association – For their vision to support private landowners who wish to share their passion for hunting and heritage with kids through their Texas Youth Hunting Program and for their exceptional conservation education programs that reach over 600,000 youth every year.
Carter Smith, Executive Director of Texas Parks and Wildlife Department will be the Master of Ceremonies with support from Amy Contreras, Executive Director, International Tax Service at Ernst and Young.
Thank you to the sponsors. Toyota and San Antonio Zoo, for supporting the Champions Awards.